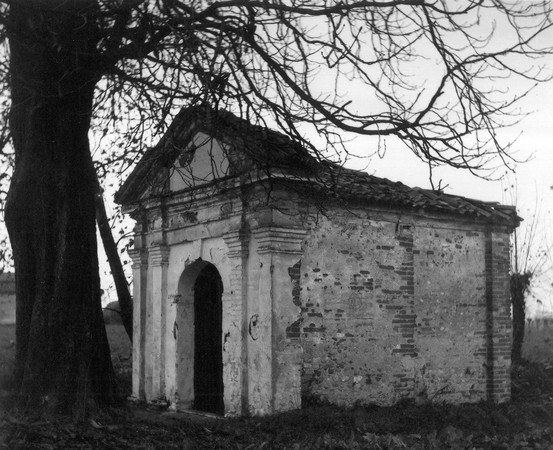 The church of St. Vitus is located on the road connecting Medole to the fourteenth- century former Augustinian convent of the Santissima Annunciata (The Holy Annunciation). The building was probably erected at the beginning of 1600 and it was originally smaller than its present structure. Its original chapel was later enlarged to include a forepart with two small side openings now closed. 
The burial place of the victims of 1630 Manzonian plague can be visited in the surrounding area; this plague is known to have been brought to Italy by the Lansquenets (mercenary soldiers). This is why the place is called Campo dei Morti di San Vito (The burial site of the dead of St. Vitus). 
In 1901 a plaque commemorating the sacrifice of the French soldiers who died on 24 June1859 in the battle of Solferino and San Martino was placed on the gable of the facade. The bones of some of these soldiers, probably recovered from the four mass graves dug in the adjoining areas and discovered in 1870, are still kept under the wooden altar. 
Inside the church visitors can admire the 18 th -century fresco of the vault depicting the immortality of the soul. A canvas representing the souls in Purgatory with the Holy Trinity was placed on the altar and there it stood until 1974, year in which it was stolen. 
There is written evidence of the cult for Saint Vitus: a document dating back to 841 describes a donation which includes a "casam Sancti Viti, cum omnibus, quae ad eam pertinent" [Saint Vitus's house and all the land related to it]. The document mentions a building with people in it, not the church, though the latter must have been part of the property itself. The written sources, however, do not provide any information about the precise place of either house or church. What is certain is that the cult of Saint Vitus is closely connected to the history of our village.